CNN
—

Whether you're in Florida's warm climate or New England's cool fall, this time of year we all have one thing in common: Halloween!
While parents around the world are thinking about their kids' clothing ideas (and trying to avoid those last-minute stressors), we in the interior design world are channeling all the haunted vibes directly into our homes. That's right, it's time to turn our usually stately abode into the spooky haunted house we know.
Fear not: Halloween decorations don't have to be all about witches, skeletons, and screaming bats (though we're not mad about the over-the-top decorations!). If you're looking for something more sedate this fall, we've found everything you need to satisfy your holiday decorating cravings, except chintz.
Grandin Road $99.50

Create a spooky hue with this tattered cotton cheesecloth scarf that can be draped over your cape, buffet, tabletop and even stair railings this Halloween.
Reminiscent of giant spider webs, this lace tablecloth turns your fall dinner party into a spooky party. It can be used alone or overlaid on another color to bring out every creepy detail in real life. More info: It also has runners.
Edgy, creepy and beautiful at the same time, this black feather wreath from Michaels is a stylish way to dress up your doorstep this Halloween season.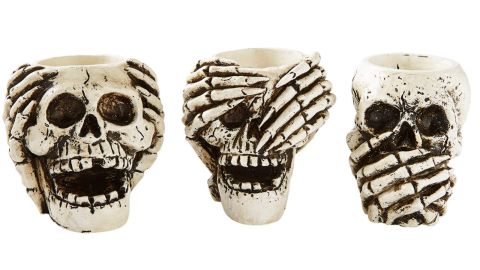 If you don't have a few skulls, it's not really Halloween, is it? correct. We love this silly three-piece set that parodies the old "see no evil, hear no evil, speak no evil" adage and think they're perfect for fireplaces and coffee tables. Plus, they're candlesticks, so you can really make them pop with your best flickering flames.
Continue to scare people with this platter of web services. In addition to being festive, the raised edge of this plate helps keep any horrific spills or stains from ruining the fun.
Your bartender this season? He is not very talkative. But he does get the wine flowing! Trust us, this bottle holder will become one of your favorite decorations.
If you're looking for a subtle piece with a sky-high creepy factor, look no further than these spine candles. The set contains three handcrafted candles that look like melting bones when lit. Say it with us: "Ew!"
Want to throw the most elegant Halloween party ever? This amazing punch bowl will ensure your success. Made from mouth-blown glass, Williams Sonoma's bowls are equally good at family-friendly punches and grown-up cocktails, complete with six gold-rimmed glasses.
Grandin Road $99.50

No Halloween is complete without a skeleton, and we love this stunning golden option from Grandin Road. This life-size 5-footer is fully articulated from head to toe, which means you can place him next to the piano or on a rocking chair on your front porch, or let him enjoy a cocktail at the dining table.
A more modern interpretation of a faux pumpkin, this decorative sculpture from Target can seamlessly fit into any decorative design, from your cape to your kitchen table and anywhere in between.
Thanks to this mug, you can start your morning with a bright pumpkin soda. This practical piece of decor can be brought to any room in your home, instantly giving it a touch of spooky glamour.
How do you prove your Halloween prowess is limitless? With a totally weird succulent pot, that's it. This black, creepy eye seems to follow you wherever you go. The best part? The plant is man made and maintenance free!
Don't let the darkness ruin the beauty of your wreath. This lit garland will give all your guests a wicked welcome.
Kids and adults alike await Halloween with anticipation, which is why this "Countdown" block is a fun addition to your decor. Keep up the "Nightmare Before Christmas" theme throughout the year, counting down until Halloween finally arrives. Bonus: The block has a Christmas sign, which means you can count down to another big holiday too.
If you're an '80s baby, it's safe to say you're still terrified of "Nightmare on Elm Street" villain Freddy Kreuger — you can now channel that fear into your home thanks to this Elm Street sign! Put it on a bookshelf, above the bathroom, or anywhere you want to scare yourself, your family, or your guests.
Diptyque makes some of the most scented candles in the business, and we're digging into the moody vibe of a rose and cassis leaf scented Baies/Berries fragrance. Sizes 10 to 51 ounces come in a matte black glass container that perfectly accentuates the rest of your Halloween decor.
Sometimes all you need is a few ghosts to get you in the Halloween spirit, and this simple white set gets the job done. Each includes an on/off button and requires three AA batteries to light up – wherever you place these cuties, they'll inspire some seasonal joy.
Grandin Road $39.50

Keep everyone on their toes this Halloween with this fun battery-powered creeper. Perfect for capes and bookcase fillers, the hand is also a great – and surprising – table center!
We love the pomp and circumstance of this official sign – let your guests know in advance that they are about to enter a haunted house!
$5 target price

If scary dark decor isn't your thing, set the tone for your dinner party with these plaid placemats from Target – they're delicate enough to sit on your table all season long. If you want to add a festive touch to your venue setting, you can also add these lovely jack-o'-lantern napkins to your cart.
We know: Williams Sonoma's soap and lotion sets are the absolute best, whether you have them in your kitchen, powder room, or master bathroom! We're really excited that they're scented for Halloween, with scents of fresh pumpkin, butter and brown sugar mixed with creamy vanilla, toasted pecans and warm spices in a stainless steel countertop container. This set is something you'll want to use all year round.
Maybe it's technically outdoor decor, but either way, let your guests know ahead of time — no, up front — that they're about to enter their Halloween home with this really gorgeous fall wreath. Weatherproof and made up of thousands of artificial fruits, the brightly colored garland comes in five sizes from ElegantWreath, a retailer with more than 38,000 sales and 6,800 positive reviews.
Have a blank wall that needs to be filled? Make these bats work for you this Halloween season. Whether you want to arch them over a window or gather them over a fireplace, they'll take on an artistic look when gathered on your walls. Yes, we said it – bats are beautiful!
Not all Halloween decor needs to be spooky, which is why we love this felt ball garland so much. Reusable for years to come, this wreath has a modern vibe and adds a festive touch to your cape, shell, or doorway!
Grandin Road $39.50

Got a bowl that needs filling? Check out this set of eight eyeballs from Grandin Road. Part delicate, part creepy, glossy eyeballs – FYI: each ball has two eyes, one in the front and one in the back – super artistic and looks great as a dining table center or vase filler very gorgeous.
We just found your candy bowl for trick-or-treaters, and um, yes, you'll be using it year-round. Crafted in Mexico in black terracotta, this 11″ bowl features mini skulls to add just the right amount of spooky vibes to your Halloween.