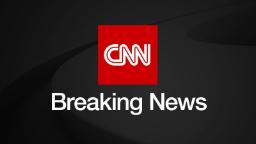 Tokyo, Japan
CNN
—

North Korea launched a "suspected ballistic missile" on Sunday, Japan's Defense Ministry reported.
It follows a series of missile tests by North Korea, including a long-range ballistic missile launched Thursday as leaders of South Korea and Japan met in Tokyo, and two cruise missiles and two short-range ballistic missiles fired from a submarine a few days earlier.
The missile launched on Sunday appeared to have landed, the Japan Coast Guard said in a statement issued at 11:20 a.m. local time.
It advised all ships to wait for further information; not to approach fallen objects; and to report anything suspicious.
South Korea's Joint Chiefs of Staff (JCS) also said it detected a short-range ballistic missile fired from the Dongchang-ri area of ​​North Pyongan Province at around 11:05 a.m. local time.
The military has increased surveillance and vigilance to prepare for additional launches, "while maintaining a full state of readiness through close cooperation with the United States," the JCS said.
Pyongyang's latest test coincides with spring joint military exercises between the United States and South Korea – the largest military drills held by the allies in five years.
Ahead of the 11-day Freedom Shield exercise, North Korea threatened "the most severe counterattack against the most vicious plots of the United States and its followers".
Sunday's ballistic missile launch came a day after North Korea said some 800,000 of its citizens had volunteered or re-enlisted to fight the United States.
The official Rodong Sinmun newspaper reported Saturday that some 800,000 students and workers across the country expressed a desire to enlist or re-enlist in the military to fight the United States on Friday alone.
North Korean leader Kim Jong Un has accused the United States and South Korea of ​​escalating tensions through military drills.
North Korea has often responded to what it sees as U.S. "provocations" with belligerent threats. In addition to joint military drills and meetings between South Korean President Yoon Suk-yeol and Japanese leader Fumio Kishida this week, U.S. President Joe Biden plans to host Yoon and his wife at the White House next month, experts said.
The state visit, set for April 26, will be Biden's second as president, emphasizing the close relationship between the United States and South Korea. Conservative Yoon and his administration have made strengthening the U.S.-South Korea alliance a key foreign policy priority. Likewise, Biden has sought to cultivate that relationship, including making his symbolic trip to Seoul in May 2022 the first stop of his inaugural tour of Asia as president.
Leif-Eric Easley, a professor at Ewha Womans University in Seoul, recently told CNN that in response to the drills and summit, Pyongyang could "order longer-range missile launches, try to launch spy satellites, demonstrate solid-fuel engines, and possibly even a nuclear test."